Discover more from Refactoring
Weekly, practical advice on writing great software and working well with humans.
Over 58,000 subscribers
Refactoring Autumn Update 🍂
Getting married, 50K subs, substack top 10, referral program, book club, and more!
Hey everyone! Welcome to this special quarterly edition that gives you an update on everything that has happened at Refactoring over the past three months.
As always, it's a lot, so let's dive in!
---
💍 We got married!
First of all, a personal update: Flavia and I got married in September 🥳 and we just returned from our honeymoon!
We spent almost three weeks split between French Polynesia and California. It was the trip of a lifetime:
🏖️ French Polynesia is truly other-worldly: we both love the sea, and this is as good as it gets. Nature, people, and wildlife. We got some bad weather unfortunately, but that didn't stop us from wonderful snorkeling, hiking, and meeting awesome locals.

🇺🇸 California was amazing, too. It's crazy to think this was my first time visiting, given how many friends I have there. We spent about a week in the US: we landed in Los Angeles, then took a car and drove to San Francisco with plenty of stops in between.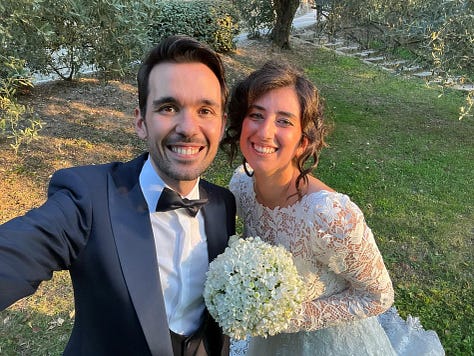 ---
📈 50,000 subscribers!
I sent the last quarter update at the end of July (a bit late) and we were at 40K subscribers and 1200 paid members.
At the time of this writing we are at 50,000+ subs and ~1380 paid members! This is just incredible. At the beginning of 2023, 50K was my subscriber goal for the end of the year: we got there three months in advance!
Such growth propelled Refactoring among the top 10 🏆 business publications on Substack, which is unbelievable, too!
Many people think newsletters are boring businesses because you apparently do the same thing all the time, week in, week out. Well, that's not me! I continuously try new things, so here is everything we did last quarter 👇
---
🏆 Referral program
In August I launched the first ever referral program for Refactoring.
It's been a huge success, bringing in more than 1200 new subscribers!
I am particularly happy about it because I know there are people out there who can't afford Refactoring, so this gives them another way to join, for free!
About this, I also have a discounted plan for purchase power parity that gives you Refactoring at up to 50% discount. If you are a student or live in a developing country, just reply to this email and let me know!
---
📗 Book Club
When I wrote the last update email, the book club was just starting.
Fast forward 3 months, we have read our first book — Good Strategy / Bad Strategy — and we are now reading Atomic Habits.
The book club has been an all-round, incredible success. From a personal standpoint, it pushes me to read more and better:
➕ Read more — I have now this schedule of 1 book every two months, which is more than I ever managed to read by myself.

➕ Read better — I read more intentionally because I know I will have to discuss the book with smart friends, and the discussion itself improves my understanding.
Then, from a community standpoint, it improves our bonding and makes me know members better. Finally, books make for great newsletter editions down the line. The Good Strategy / Bad Strategy one was super popular 👇
So, if you don't have time to read the full book, you can just read the summary + review and it's a good substitute.
---
🎟️ Events
We always run many events, usually about one every two weeks. I want to highlight the recent one with Kaz Nejatian, VP of Product and COO of Shopify 👇
This was the highest profile interview I ever had the chance to make, and for the occasion I opened up the live event to the whole newsletter audience. 120+ people registered to the event, and it's crazy to think that Refactoring can now "summon" events like this, at mini-conference scale.
---
✍️ Popular articles
Finally, as always, here is a round up of the most popular articles of the quarter:
I basically re-wrote from scratch the very first article I published on Refactoring, which has always been one of the most popular. It talks about planning product and engineering work for an early stage startup, using a framework I came up with.
I re-wrote this because:
I have learned a lot in 3 years and I can add better ideas, and improve the existing ones.

I want the articles you find in the Library to be relevant, so I want to update them from time to time.

I can make better drawings now :)
This is the third Refactoring guide, after the previous ones on engineering metrics, and documentation.
Guides have been a bold bet that so far has paid off in spades. They are consistently the most liked and shared articles on Refactoring, and act as an entry point for entire topics in the Library.
The rationale behind guides is that, without them, the Refactoring body of work would feel overwhelming. It's 150+ articles, so where do you start?
Enter the guides.
Eventually, there will be one guide for each Library topic, and they will act as primers for them, linking to more specific articles if you want to learn more.
I have already talked about this above, but I want to tell you more about the idea behind "book editions" of the newsletter.
I have a complicated relationship with non-fiction books.
I find most of them diluted and hard to read. The average non-fiction book presents 2-3 great ideas that could be perfectly explained in a long blog post, maybe linked to some case studies if you want to learn more. Instead, those ideas are stretched into a 300-pages thing, which usually makes them unbearable.
My opinion is that, being books linear, they are perfect for fiction, but not for learning.
People don't learn linearly — they skim through stuff, skip what they already know, or go back when they don't understand something. I do this myself and I am very aware of it — that's why I put great care into organizing articles in chapters, adding visual anchors (emojis + drawings) and summaries on top.
The problem with books is that they are hard to skim. Sure, you can use the table of content and do some tricks, but it's cumbersome.
On the other hand, there exist many services for book summaries, like Shortform or Blinkist, but I don't find them 100% satisfactory. I would love a more opinionated option, which summarizes the book but also gives me its take on the good and the bad parts, and how they relate to some real-world experience.
That's what we are up to.
Every two months, a group of skilled tech leaders reads an engineering or management book, reviews it together, and I curate a "summary + review" edition about what you should take away from it.
---
❤️ Subscribe to Refactoring
So these are the latest updates!
Refactoring started as just me writing about my personal experience. These days it is becoming more and more about curating and organizing the ideas and the experiences of hundreds of awesome tech leaders, rather than just my own.
I love this feeling of community and I am excited about what's to come.
I would love you to be a part of it, so, if you haven't already, consider subscribing to the full version!
Also here are more info about what's in there for paid subscribers.
---
Thats it for today! See you next week 👋
Sincerely,
Luca