Discover more from Refactoring
Weekly, practical advice on writing great software and working well with humans.
Over 58,000 subscribers
Open doors, management styles, and the life of a CTO 💡
Monday Ideas — Edition #75
Hey, Luca here! Welcome to the Monday Ideas 💡
Every Monday I send you an email like this with 3 short ideas about making great software, working with humans, and personal growth.
Paid members also receive a long-form, original essay on Thursday, like the last one:
To receive all the full articles and support Refactoring, consider joining 1400+ engineers and get the paid membership!
p.s. learn more about the benefits of the paid plan here.
---
Need speed and flexibility in scaling dev teams? Revelo is the largest platform to hire world-class remote developers from LatAm.
Get matched with vetted candidates in 3 days and receive a $2,500 credit on your first hire. Start with a risk-free trial!
Revelo is a sponsor of Refactoring 🙏 learn more here about how we run sponsorships transparently.
---
1) 🚪 The Open Door Fallacy
I have found that the value of 1:1s is usually obvious in large companies, but way less so in small teams. Many leaders think they already know their people and they talk with them more than enough, so there is no need to schedule weekly calls with them.
This is a mistake I have made for a long time as a founder.
You may feel people can already reach out to you when they have an issue. Probably this is true, and they do to some extent.
This is also, however, the classic open door fallacy. An open door still puts the burden on the shoulders of your reports, who sometimes may not feel like raising an issue, or may go to great lengths to fix things themselves before reaching out for help.
1:1s, instead, are intentional.
They create a safe space where people are allowed to approach you with their needs. For your reports, knowing they have this space changes the game completely.
They become more mindful about their issues, because they know they will be able to discuss them with you every week. They will note them down in anticipation of the meeting.
Nurturing this has three main benefits:
💣 It defuses issues before they become too big. — without 1:1s, people have to win some friction to reach out to you and speak about problems. So they will naturally try to fix them by themselves first, with the result of speaking to you when it's too late.

🗓️ It frees the rest of the week from this kind of talk — "Let's talk in our 1:1" becomes a common way of scheduling a conversation about personal development, keeping the rest of the time focused on production.

❤️ It builds true rapport — between managers and reports. As a manager, these are your most important meetings. It's where you get to coach your people and build long-term trust.
I wrote a recent article about how to run 1:1s:
---
2) 🎽 Management Styles
One of the best managers I ever had told me that what separates good managers from great ones is that the latter are able to use different styles with different people to get the best out of them — because the same style might not work with everybody.
Few managers, however, are able to pull this off. For two reasons:
🏅 Success — people have early success with one style (e.g. aggressive, confrontational vs supportive, easy-going, etc), so they stick with it because that's what they know best.

🧠 Personality — people tend to use the style that fits their own personality best, so changing it is no walk in the park.
Now, if you take this style angle and apply it to a founder/CEO, rather than a simple manager, effects don't only apply to their direct reports — they ripple through the whole company culture, to the type of people you hire, and so on.
I reflected on this while commenting on the whole Elon / X situation last year — it was one of the year's most popular articles!
---
3) 👑 What does a CTO do?
Since I founded my startup, in 2012, I have often been involved in mentoring other early-stage founders and CTOs. I still do it today.
So, the most recurring question I get from CTOs is: what should I focus on? Or, if you prefer — how should I spend my time?
Answering this directly is close to impossible, because the CTO role depends on many factors.
Nevertheless, there are some common traits about the work of the best CTOs I have known. To understand them, let's start with the three main responsibilities you have to cover in early stage startups: Tech, Product, and Marketing.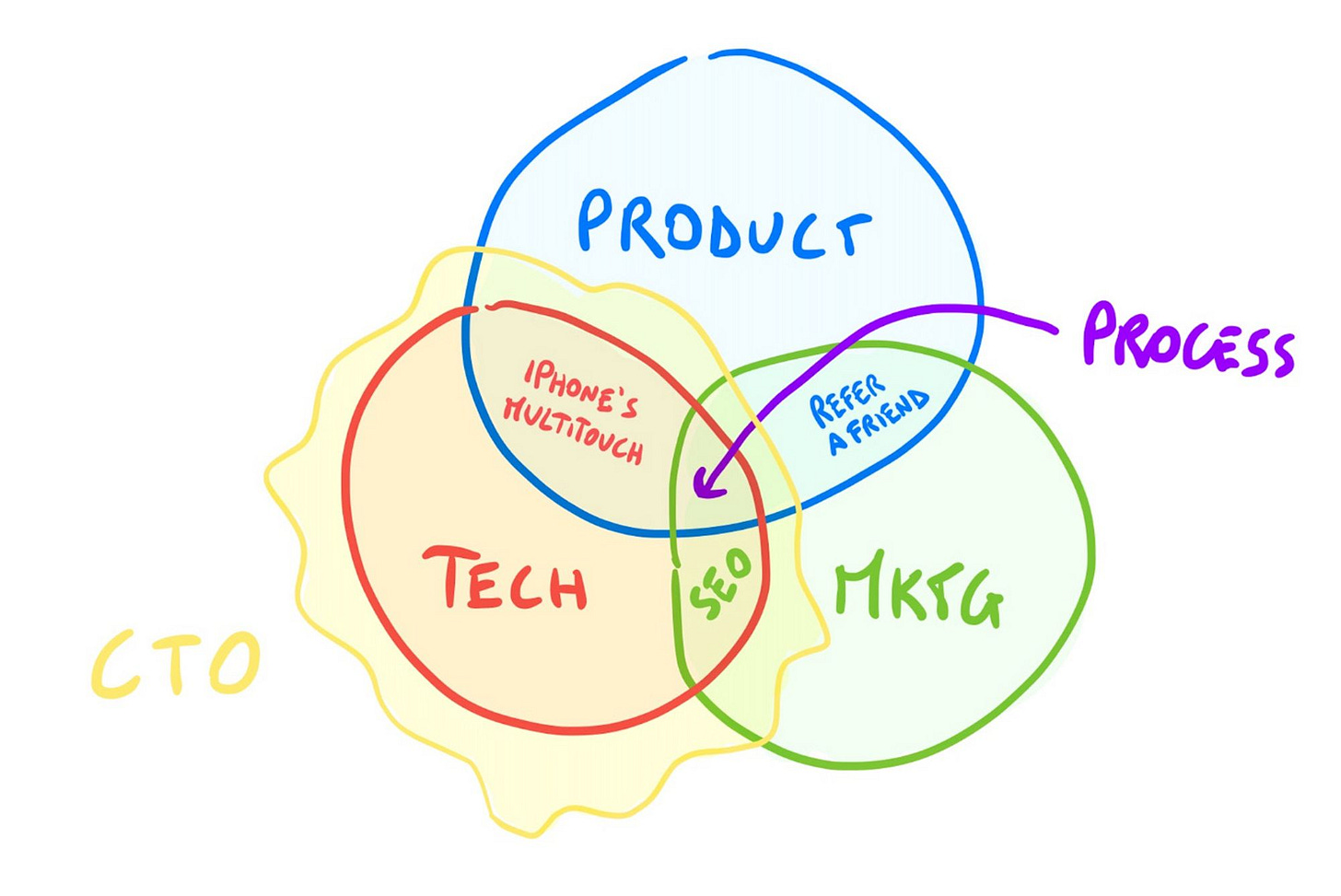 Such areas are not clear-cut and have often big overlaps. For example:
SEO is a marketing / distribution topic which also requires strong technical work.

Refer-a-friend strategies are both non-trivial product features and distribution channels.

A good technical strategy often informs the product of what can be built. Famously, Steve Jobs decided to build the iPhone after he saw a prototype of a multi-touch screen in the lab.
The biggest overlap of all, though, lies at the center, and is about process — that is, how people work together.
Out of the various leadership roles, CTOs are the ones who most likely take care of this. That's both because of their engineering mindset — they often see the company as a system, and act accordingly — and because in tech startups the engineering dept often ends up being the largest (or one of the largest), so there is more need for structure.
So, startup CTOs usually take care of tech and process, but your actual duties shift a lot based on your team's size.
I wrote more about the CTO's life in a previous popular article:
---
🖥️
Typo
• Ship better software faster (Sponsor)
Last week we promoted Typo, a software delivery intelligence platform that seamlessly integrates with your dev tool stack (Git, Issue tracker, CI/CD, Slack) & finds real-time bottlenecks in your SDLC, automates code reviews & measures developer experience.
If you missed it, as a Refactoring reader, you can still get 20% off + 30-day trial on any Typo plan 👇
---
And that's it for today! If you are finding this newsletter valuable, consider doing any of these:
1) ✉️ Subscribe to the newsletter — if you aren't already, consider becoming a paid subscriber. 1400+ engineers and managers have joined already! Learn more about the benefits of the paid plan here.
2) 🍻 Read with your friends — Refactoring lives thanks to word of mouth. Share the article with your with someone who would like it, and get a free membership through the new referral program.
I wish you a great week! ☀️
Luca