Discover more from Refactoring
Weekly, practical advice on writing great software and working well with humans.
Over 58,000 subscribers
Interruption levels, crafters, and hiring more managers 💡
Monday Ideas — Edition #77
Hey, Luca here! Welcome to the Monday Ideas 💡
Every Monday I send you an email like this with 3 short ideas about making great software, working with humans, and personal growth.
Paid members also receive a long-form, original essay on Thursday, like the last one:
To receive all the full articles and support Refactoring, consider joining 1400+ engineers and get the paid membership!
p.s. learn more about the benefits of the paid plan here.
---
Kiss bugs goodbye with fully automated end-to-end test coverage! 😘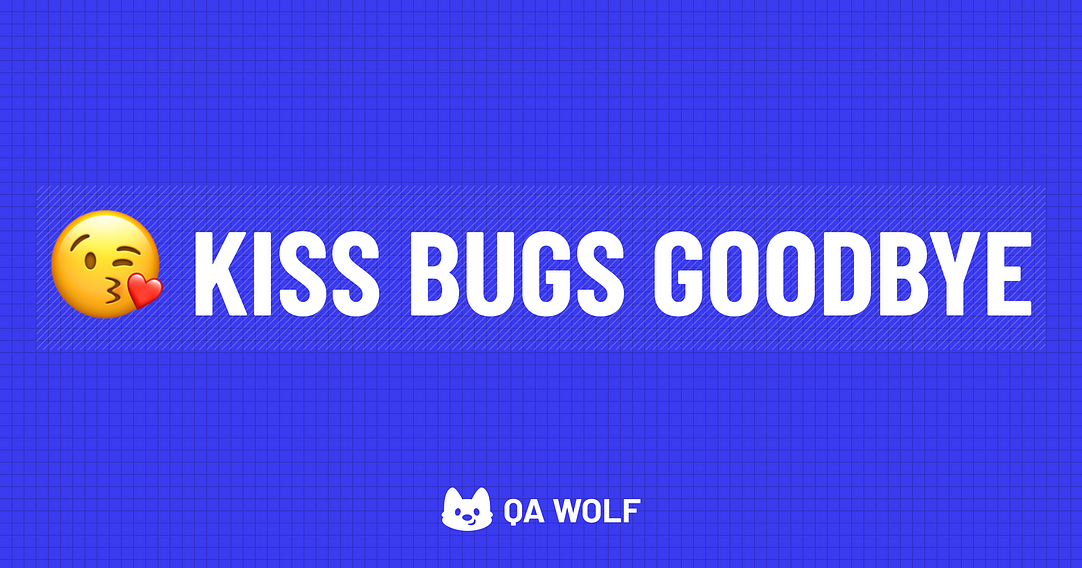 QA Wolf offers a cost-effective approach to getting 80% test coverage in just 4 months.
They will build and maintain your test suite in Playwright (no more dealing with false positives or flaky tests) + provide unlimited parallel test runs on their infrastructure at no additional cost. The benefit? No more manual e2e testing, no more slow QA cycles, and no more bugs.
They have multiple case studies of customers saving $200k+/year in QA engineering and infrastructure costs. Schedule a demo to learn more.
---
1) 🔕 The Three Degrees of Interruptions
A few weeks ago I published a long article about how I organize my personal work.
It was a challenging piece to write, because it sums up a lot of thoughts that I collected over the years. So, it is no coincidence that I drafted it on a plane from Munich to Los Angeles: 12 hours, no internet, zero interruptions.
It was probably the most productive time of my life.
Interruptions are damaging for all work, but especially creative work. I have found that there are three main interruption environments you may find yourself in:
🙋‍♂️ You will be interrupted — e.g. there is a meeting later, or you need to check email frequently.

🤷‍♂️ You may be interrupted — e.g. if someone writes you, you may need to reply.

🙅‍♂️ You can't be interrupted — e.g. you shut all notifications, you are on a plane, etc
The difference in productivity between these modes can be immense. The mere idea that you may be interrupted by something makes you incredibly less productive than working in an environment that is guaranteed to be interruption-free.
The good news is there are easy things we can do to improve:
Turn will into may — e.g. move meetings where they do not interrupt work (end of the day, right before/after lunch), check email only twice a day at well-defined times.

Turn may into can't — e.g. shut notifications and block distracting websites when doing focus work.
---
2) 🔨 Crafters vs Managers
Last week I published my own guide on creating good remote teams.
While doing some research, I went back to the interview I did with Kaz Nejatian, COO of Shopify, a few months ago.
Out of the many ideas contained in the interview, one in particular stuck with me: at the heart of the issues that plague most large companies, there is a conflict between what Kaz calls crafters (e.g. engineers, designers) and managers.
In any tech company there are way more crafters than managers, yet systems, schedules, and big decisions are mostly dictated by managers. The problem with this is that crafters and managers do extremely different work, and get energy from different things — see PG's essay, Maker's Schedule, Manager's Schedule — so optimizing systems for managers makes good crafting eventually die.
This probably is a historical problem: your average company structure today is very hierarchical — management and org structure ideas are typically from decades ago, and are suboptimal for today's tech teams.
So, Kaz doesn't discount the crucial role of managers, but he argues that companies should be organized around crafters' productivity, not the other way around.
Conversely, when companies get organized around managers, they eventually produce career ladders instead of actual products. People play promotion games, politics, and try to game the system to rise the ranks, because that's where the incentives are.
And that's how great products and companies die.
---
3) 💼 Signs you should hire managers
One of the crucial transitions that founders need to get right in their teams is when to introduce managers for the first time.
And from that moment, smaller versions of the same dilemma will keep popping up when it comes to figuring out whether you need more managers.
To get this right, it is helpful to reflect on the three main areas of responsibility of a manager: Planning, Alignment, and Health & Growth.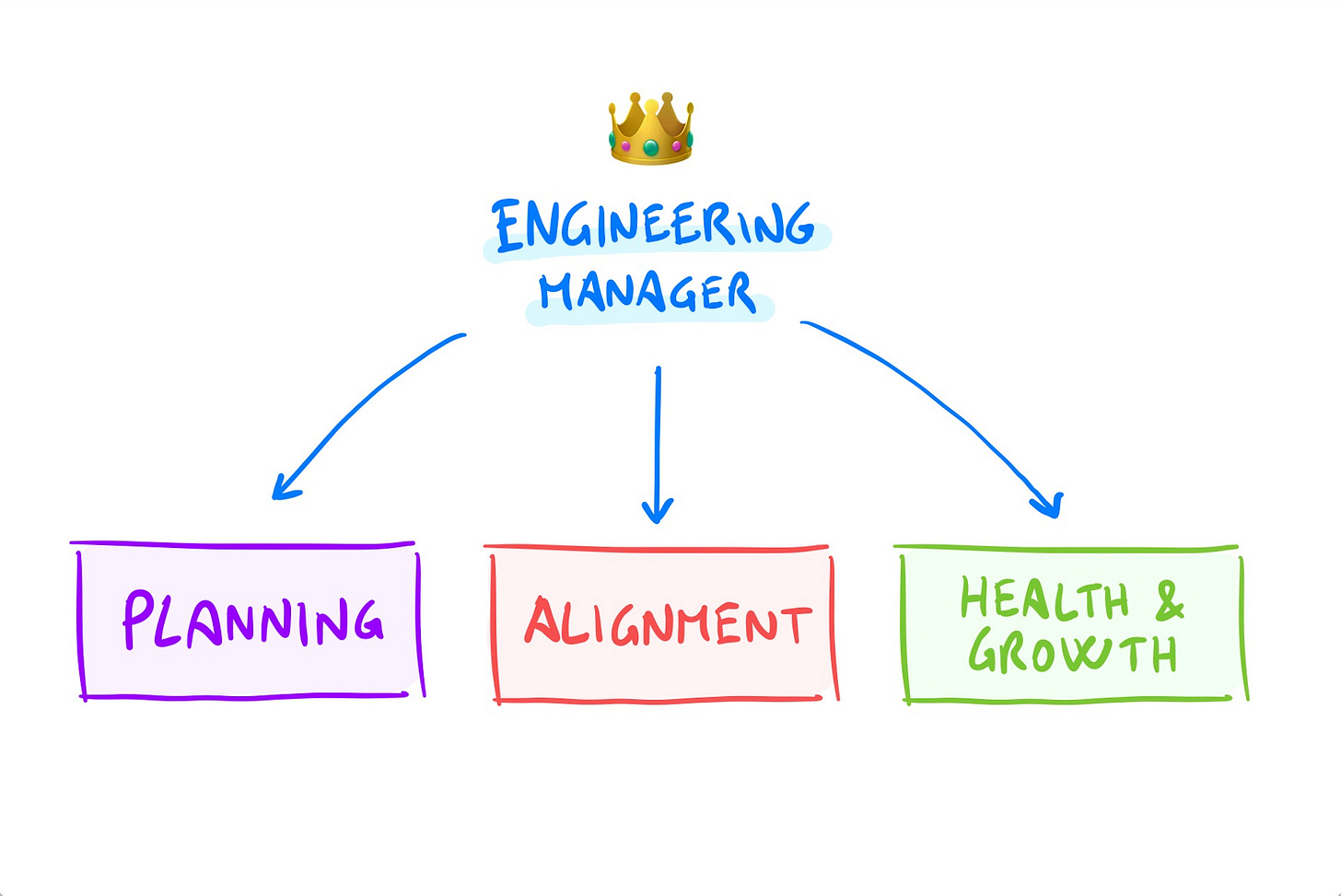 🗺️
Planning
Planning is about organizing work.
Whether you have OKRs, sprints, weeks, or any custom process, you always need some version of scoping, prioritizing, allocating resources, and negotiating with stakeholders.
Signs that you are under-investing in planning are:
You constantly fight for resources — you have parallel streams that continuously demand work, and you need to spend a lot of time on resource allocation.

No meaningful work gets done — the team has a bias towards small tasks and maintenance that brings little value to the final user. Good management sorts out what matters from what doesn't, and make people focus the former.
🔀 Alignment
Alignment is about keeping people coordinated on what needs to be done. Removing obstacles. Adding what's missing at any given time.
Signs you are short on alignment are:
You are constantly slow at taking decisions – good alignment enables autonomy and makes teams go faster.

Stakeholders are not properly in the loop – you find yourself often changing course late in the development.
❤️
Health & Growth
This is about managing people and the overall team's health. Taking care of feedback, careers, and recruiting.
It is arguably the most important duty of a manager, and there are many signs you need more effort on it:
New employees don't meet expectations — when this happens regularly, it is more likely an issue with your onboarding process, like setting early goals and make new hires comfortable with their new team.

Turnover is high — famously, people leave their manager rather than their company. Conversely, good management is your #1 retention weapon.

Hiring is slow — your hiring process is unclear and you constantly spend several months to fill your positions. Investing is good hiring is a no-brainer, and that needs dedicated resources.
You can find more signs about the need for hiring in this previous Refactoring article 👇
---
And that's it for today! If you are finding this newsletter valuable, consider doing any of these:
1) ✉️ Subscribe to the newsletter — if you aren't already, consider becoming a paid subscriber. 1400+ engineers and managers have joined already! Learn more about the benefits of the paid plan here.
2) 🍻 Read with your friends — Refactoring lives thanks to word of mouth. Share the article with your with someone who would like it, and get a free membership through the new referral program.
I wish you a great week! ☀️
Luca