Discover more from Refactoring
Weekly, practical advice on writing great software and working well with humans.
Over 58,000 subscribers
Monthly Digest — October 📌
What happened so far and what comes next
Hi everyone! This week marks one month since I started writing Refactoring! 🎂
A lot of things happened since then, and I thought it made sense to share a little review with you.
200 Subscribers ❤️
The first thing I want to say is: THANK YOU! There are now more than 200 of you who trusted me with their email and decided to hear my say about making great products and software. It's a big responsibility and I will never take it for granted!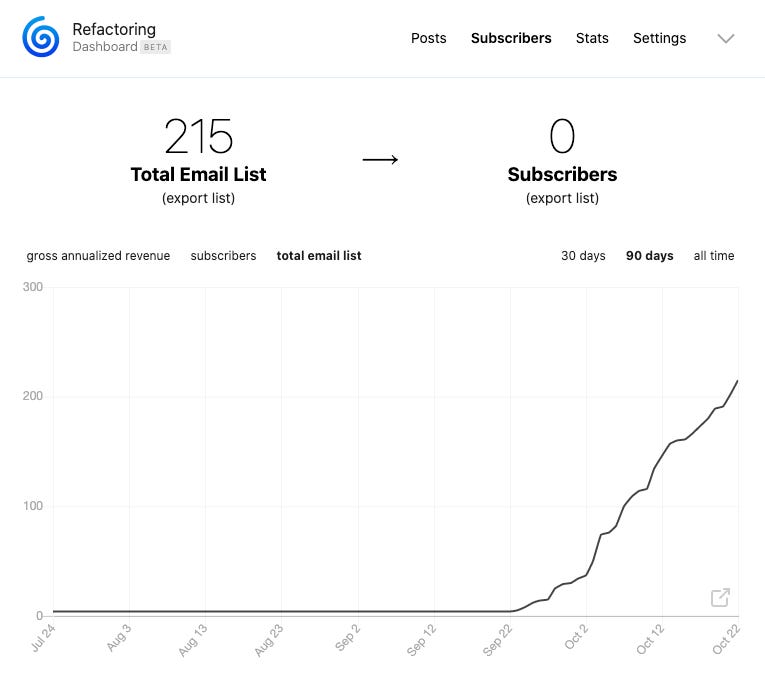 Your response has been incredible, and many of you have left some very kind comments:
This article is amazing and helped me understand better the OKR world!
@lucaronin started an incredibly interesting newsletter on the challenges and tricks he learned while leading his development team. Very insightful.
Awesome content! Looking forward to read more
I started Refactoring as a way to share what I know, and as a catalyst to study and learn more. This is all happening because of you, and faster than I ever expected.
Talking of faster...
Refactoring becomes weekly 💥
I will now publish an article every Friday morning, down from the bi-weekly-ish pace I started with. I do it for two main reasons:
🗓️ 1) I prefer weekly newsletters myself — I am subscribed to multiple newsletters that range from daily to weekly all the way to monthly. I tend to stick with weekly ones, even more so if they arrive the same day every week.
It's all about creating the habit of reading, and staying in touch with the author. Daily ones are usually too much for me, while bi-weekly and monthly tend to be too little. Weekly feels like the sweet spot.
⚡ 2) I feel faster and better — at writing than I was when I started. I established my loop of reading, taking notes and writing about what I read, and I am quite happy with it right now.
About this, I have been greatly inspired by the incredible book How To Take Smart Notes, by Sönke Ahrens, and Tiago Forte's Progressive Summarization approach. I recommend them without hesitation to anyone who is interested in retaining what they read and building long-term knowledge.
Monthly Highlights ✨
There are now 7 articles on Refactoring, 3 of which have been published this month. If you have missed something, here are the October ones:
🔨 How to plan maintenance and small changes — introduces our approach to maintenance and lays the groundwork for the post that comes next, the tennis rankings one. If you have read the latter, you should read this one as well for the complete picture.
Help me spread the word 📣
If you like Refactoring and would like to support it, think of sharing it with your friends and colleagues.
Do you know someone who would appreciate these posts? Someone who can learn something from them, or contribute by commenting their own experience? Please tell them!
Feedback 💬
Finally, let me know your thoughts. What should I do to make it better for you? Are there any topics you would like me to cover? Are posts too short, too long, too frequent, too infrequent?
Anything you can think of can be useful to improve 🙏
Thank you again and as always let me know in the comments 👇 see you next Friday!
---
Hey, I am Luca 👋 thank you for reading through this post!
Every week I write something about making software, working with people and personal growth. If you haven't already, you can subscribe below to receive new posts in your inbox!